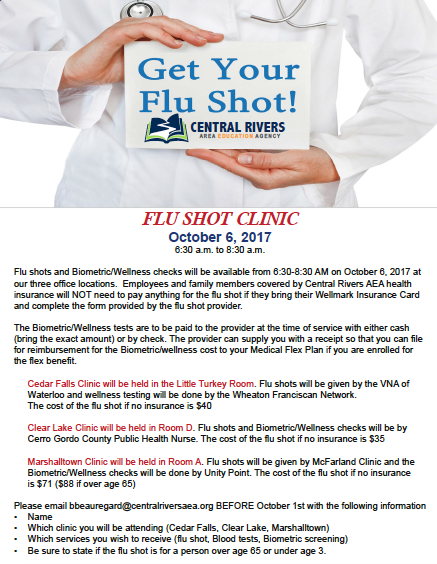 It's that time again! Flu shot clinics are being held in all three Central Rivers AEA locations on October 6th from 6:30-8:30 am.
Employees and their families covered by Central Rivers AEA health insurance will not have to pay for the flu shot but will need to bring their insurance cards that day.
All information, including costs for those without agency insurance and how to sign up, can be found on this downloadable flyer
In addition, please refer to these individual flyers linked here about the 0ptional Biometric/Wellness screenings taking place that you can take advantage of. Please note costs related to each as these will need to be paid for on that day by check or exact cash. The provider will provide you with a receipt to file for reimbursement.
Clear Lake Flu Shot & Biometric Screening Information & Costs
Cedar Falls Wellness Screening Information & Costs
Marshalltown Wellness Screening Information & Costs
Please direct all questions to Betty Beauregard at 319-273-8202.