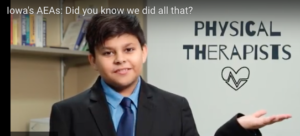 In an effort to share more information about the role that Iowa's AEAs play in education, last week the AEA system communications directors launched a redesigned website and new video.
We encourage you to share this video, as well as future posts about our system with your friends on social media. Together we can share the important work and partnership that Iowa's AEAs provide to children, families, and educators!
You can share on Facebook from https://www.facebook.com/iowaaea/
or copy/paste
Iowa's AEAs… Did you know we did all that? Check out Iowa's Area Education Agencies newest video at https://youtu.be/6_2Lmts7qhw
Feel free to add your own text and tell your friends why you love working for Iowa's AEAs! Don't forget to check out the website redesign at iowaaea.org.