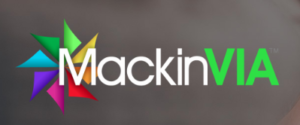 One of the new features of MackinVIA makes the creation of individual accounts or backpacks even easier using Google accounts. Most of our school districts, including Central Rivers AEA, use a Google domain for our e-mail and productivity tools. Media Services is working with our school districts to encourage the creation of backpacks for students and staff to increase the instructional power of the MackinVIA resource. So, since we are encouraging our schools to use the Google integration feature to create backpacks, Media Services decided to create backpacks for all of Central Rivers AEA staff using the new Google integration!
All staff now have an individual account created within the MackinVIA eBook portal. To access your account, you go to MackinVIA.com, enter Central Rivers AEA Staff VIA, Cedar Falls, IA (the location will pop up after typing in a few characters) in the top box labeled "site" and the screen will prompt you to login with your AEA Google login.  Having a backpack within MackinVIA will allow you to use the underlining, highlighting and note-taking features within the eBooks and also will allow for downloading to your Google Drive, making assignments within Google Classroom and downloading eBooks for reading/listening offline on any device you might use.
All of the schools that you support have access to MackinVIA, so please consider using these eBook resources in your work with students and LEA staff. MackinVIA contains a wealth of resources for teaching and learning! Please contact Cheryl Roberson or Cari Teske if you have any questions about using MackinVIA in your work with students and teachers.