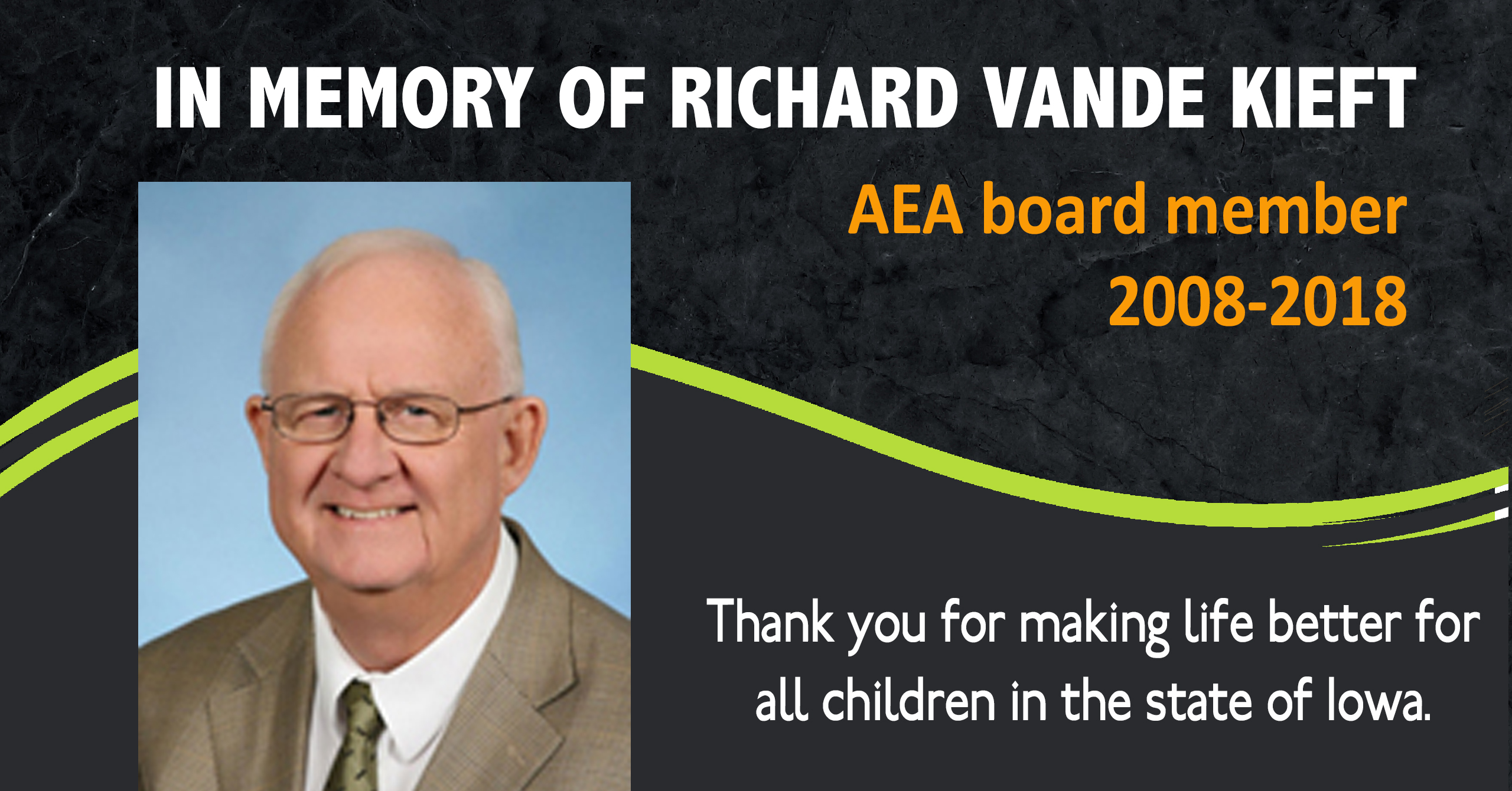 Longtime board member Richard Vande Kieft passed away on Wednesday, November 7. He resigned from the Central Rivers Area Education Agency (AEA) Board of Directors on July 11 following an extended illness. Richard began serving on the board in 2008 and held the Director District 7 seat representing the school districts of Cedar Falls, Denver, and Janesville. In addition to serving on the AEA board, he also served 31 years on the Cedar Falls Community School District Board of Directors, including nine years as board president or vice president.
At the state level, Richard served as a member of the board of directors of the Iowa Association of School Boards (IASB) from 1993 to 2011. Elected to leadership positions of president-elect, president or treasurer of the association from 1998 to 2011. He served on the IASB Legislative Resolutions Committee, and also served and chaired the Board of Trustees for the Iowa Schools Joint Investment Trust (ISJIT), Iowa Schools Cash Anticipation Program (ISCAP).
At the national level, Richard served as an Iowa representative to the NSBA Delegate Assembly and has served on both the Central Region and National Nominating Committees for NSBA directors and president.
"Dick Vande Kieft is an incredible example of selfless service to the community," said Sam Miller, Central Rivers AEA Chief Administrator. "He worked quietly behind the scenes for decades serving children, families, and educators in the Cedar Valley. His leadership will be sorely missed."
For information about arrangements as well as a complete obituary,  please visit http://www.dahlfuneralhome.com/obituary/richard-vande-kieft.