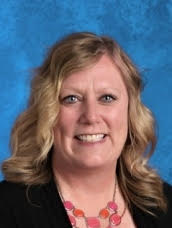 Cari Teske, Teacher Librarian/Consultant for School Improvement, has been named Director of Media Services. Cari will provide direct oversight of all aspects of Media Services including support for school districts as they work to integrate media resources into the teaching and learning process. The Director of Media position was established following a restructuring which included moving Jen Sigrist to the role of Executive Director of Educational Services on July 1, 2021.
Cari has served as a Teacher Librarian/Instructional Technology Consultant since 2015 with the agency. Prior to that she was a high school principal at BCLUW for four years. She has also been a teacher librarian and elementary teacher and holds a Master of Arts degree in Curriculum & Instruction from the University of Northern Iowa along with a K-12 School Library Media Master Endorsement.
"I am so pleased to have Cari in this role," said Jen Sigrist, Executive Director of Media & Innovation. "She has a future ready vision for where Media Services should go and a passion for working directly with teachers and other school leaders to deeply infuse Media into teaching and learning. She's a natural fit who will bring a customer-service perspective and high level of energy to her work."
Cari will begin her new position on July 1, 2021.