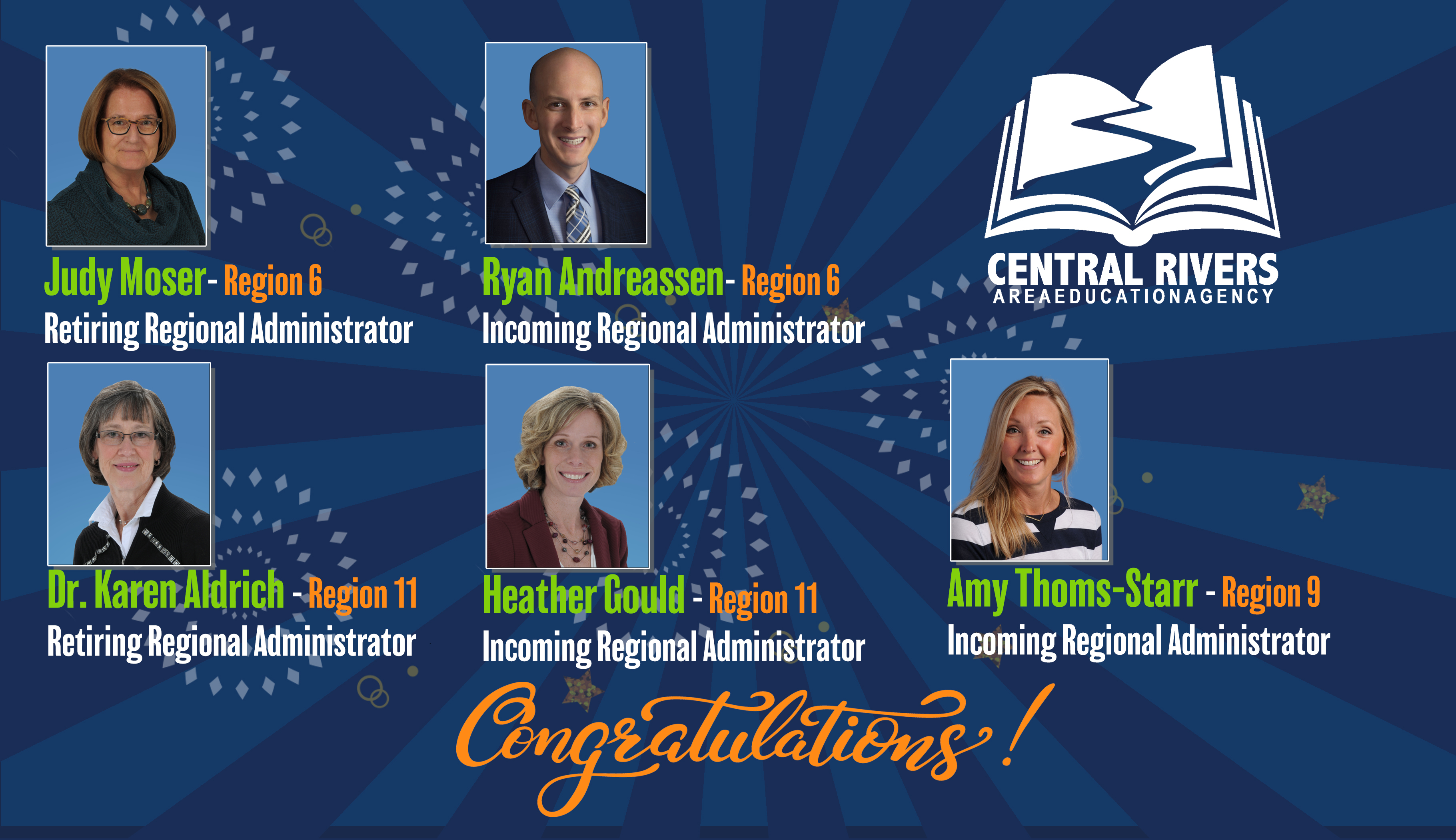 Central Rivers AEA is pleased to announce the selection of two new team members to replace retiring members of the Regional Administrator team, along with an assignment change. 
Ryan Andreassen, currently a Consultant for School Improvement/Technology Integration serving Region 7, will replace Judy Moser in leading Region 6 as Regional Administrator. Judy is retiring from her position after 46 years of service in education.
Prior to coming to Central Rivers AEA in 2020, Ryan served as a PK-12 Instructional Coach and Professional Development lead at Jesup CSD. He also held roles at Jesup as a Specialist Instructor (Model Teacher) and 3rd grade classroom teacher. 
Amy Thoms-Starr, a Special Education Consultant serving Region 9, will move into the Regional Administrator role for Region 9. Heather Gould, currently the Regional Administrator for Region 9, will replace Dr. Karen Aldrich in Region 11. Karen announced her retirement this week having served in a variety of roles with the agency beginning in 1995.
Amy joined the agency in 2003 as a Special Education Consultant. Prior to that role, she served as a Special Education Teacher at Waterloo CSD. Amy has served as a poverty trainer, AEA mediator, and literacy team member during her career with the agency.
"We are fortunate to have had an abundance of talent in the pool of applicants for the Region 6 position and a late opening in Region 11," said Sam Miller. "Both of the outgoing Regional Administrators leave big shoes to fill so it made sense to hit pause and thoughtfully consider where everyone would be placed. We think we've got it right and we are excited to see where these leaders will go with their new assignments. This is an exciting time for the agency and those we serve in Regions 6, 9 & 11."
Honoring the work of Judy and Karen
Judy Moser started her career in education in 1973 at Sacred Heart School as a classroom teacher. In 1975, she joined the Area Education Agency system as a Special Education Teacher and went on to serve as Educational Strategist, School Psychologist, Special Education Administrative Intern, and Special Education Coordinator/Regional Administrator.
Judy leaves a legacy of service and leadership behind including pioneering work in the area of Standards Based Evaluation (SBE), which she will continue to guide on a part-time basis. "I'm deeply passionate about seeing this initiative fully implemented and I still have a tremendous amount of energy to give to the effort," said Judy. "Still, I'm also looking forward to exploring other personal opportunities and a more relaxed pace of life."
Dr. Karen Aldrich started her work in education at Marshalltown CSD where she began as a teacher of children with behavioral disorders. She served 12 years in Marshalltown before coming to the agency in 1995 as a Behavior School Improvement Facilitator. She later transferred to the role of Supervisor of Special Education before serving as a Special Education Coordinator/Regional Administrator.
Karen is perhaps best known for her leadership and advocacy for well-being and mental health supports. Her experience and depth of knowledge helped pave the way for today's well-being initiative as part of the agency strategic plan. "My time as a teacher and the various roles in the AEA system have been so very rewarding. Working with each and every one of you has been my greatest joy in this incredible journey," said Karen. " I have learned so much from all of you and from those who have touched my life over my career. I am truly blessed!"