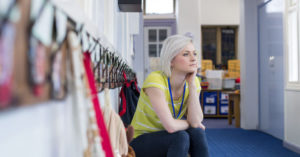 We recognize that employees may from time to time experience stress, trauma or other life events that affect both their personal and work lives as well as their overall quality of life.  Our EAP offers confidential professional assessment and referral assistance for employees to help them address such challenges.  
Examples of the major life issues for which you may receive support from an EAP professional include: 
Depression, anxiety and other mood disorders

Relationship or family problems, including divorce and abuse

Substance abuse (e.g., drugs, alcohol) and other addiction problems

Job-related stress or anxiety
Information regarding the EAP is provided below:
Central Rivers AEA Employee Assistance Program (

EAP

) 

You have access at no cost

EAP advisor services 24/7, 365 days a year

Phone:  1-866-451-5465 

Online:

workhealthlife.com

 

(We are listed as: AREA EDUCATION AGENCY 267)

App:

QR Code
Also, a reminder that other programs exist for Employees with concerns regarding their mental health.  Please contact your direct supervisor or Karl Kurt, Assistant Chief Administrator/Director of Human Resources for further information or support.
Personal Health Care Provider (as part of your insurance package)

Dr on Demand

(as part of your insurance package)