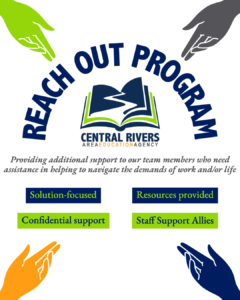 Mental health is just as important as your physical health and deserves the same quality of support. In the past, we have shared information regarding our Employee Assistance Program (EAP), virtual mental health visits through Doctor on Demand and the ability to engage in face-to-face therapy through your medical insurance.
Starting October 15, we will be adding the "Reach Out Program" in-house, featuring a small group of confidential, trained, empathetic staff who can serve as a first resource for you when struggling with a personal or professional challenge. We are calling them "staff support allies" and they are listed below. 
The Reach-Out program is designed to provide a safe and supportive thought partner to process and/or provide guidance and support. It is not meant to be therapy or for crisis situations. Our protocol for conversations is solution-focused. It is meant to be a short-term collaboration with a colleague, who has mental health training, to help provide support and find the right resources for you.
We recognize a need and desire to do better as an organization to ensure there is a responsive and empathetic work environment. Please hear us, when we say, "You are not alone," and we want to provide help and support to you as an individual, a professional and as a member of our team. Our goal is to listen, provide a safe space and possibly help identify the next steps. 
The process is confidential, not only by design but by the professional ethics of each of our allies.
For more information, please join us on October 15, from 8-9 am for a special all-staff Zoom meeting to discuss this initiative further:
Meeting ID: 849 5474 1695

One tap mobile  +13126266799,,84954741695# US (Chicago)