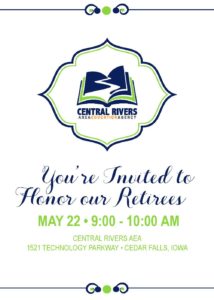 This year's retirement celebration is being held on Wednesday, May 22 from 9-10 am during the all-region meeting in Cedar Falls.
This is a wonderful opportunity to congratulate our retirees and recognize them for their dedication and years of service to the agency.
Zoom (https://zoom.us/j/401721538) will be available at all locations for employees that are not attending the regional meeting.
Those being honored this year include:
LuAnn Andera, Audiometrist

Kathy Barfels, Admin. Secretary-Professional Learning

Jacque Brandau, Early Childhood Special Educator

Karen Dilger, Professional Learning Systems Support Specialist

Jolene Euken, Early Childhood Special Educator

Sandy Folkerts, School Social Worker

Jackie Gray, Work Experience Coordinator

Janet Hedberg, Speech-Language Pathologist

Janice Judisch, Special Education Consultant

Sandra Kraschel, Parent-Educator Coordinator

Kay Meaney, Early Childhood Special Educator

Dawn Metzger, Educational Assistant

Dorene Moore, Educational Assistant

Debbie Morris, Special Education Consultant

Jaymie Redfern, Physical Therapist

Steve Riess, Work Experience Coordinator

Jennifer Rogers, Speech-Language Pathologist

Karen Springer, Early Childhood Special Educator

Dan Stephens, Teacher of Mental Disabilities

Pat Weigel, Special Education Consultant

Gerald Nunn, School Psychologist