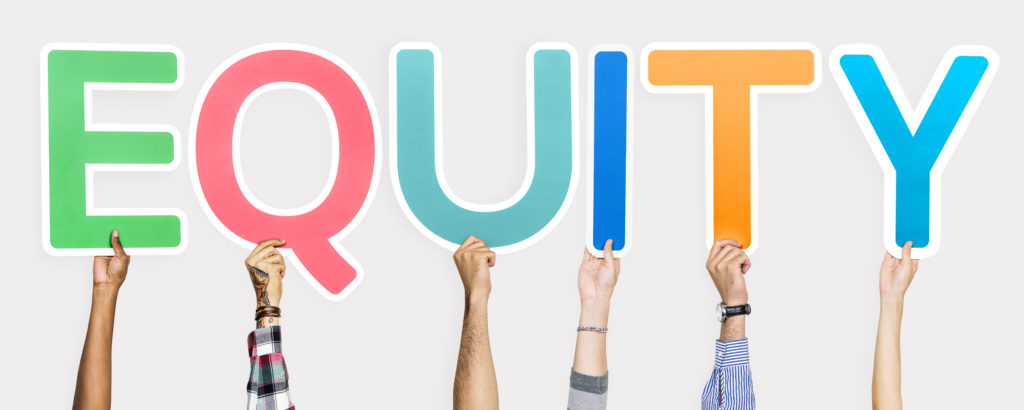 The Equity Committee met on November 4 and December 6 to continue with our equity audit work. Prior to the meetings, committee members completed a survey to identify potential priority areas for our audit.  The committee reviewed the survey results and engaged in small group discussions to take a deeper look into root causes, discuss what areas members felt would have the greatest impact, our current levels of readiness, and potential long-term implications.
The committee determined that our two focus areas will be: 
Infrastructure/Resources—The organization has committed resources and structures to support equity work.

Professional Development—The organization fosters ongoing equity learning and growth for its staff and stakeholders.
As part of this audit, we will be collecting staff feedback through a series of focus groups, as well as gathering the perspectives and input of all stakeholders through an anonymous survey.  
Focus groups will…
Take place during the span of January 5 -19  (8:30 – 10:30 am or 2 – 4 pm)

Be conducted via Zoom

Consist of 10 – 12 participants per focus group – that's 100+ participants! 
If you are interested in participating in a focus group, please sign up on the CRAEA Equity Audit: Focus Group interest form no later than December 17.
In the survey above, please select all times that would work for you. All feedback will be reported anonymously and will greatly inform our understanding of the work the agency needs to do to become a more equitable organization. 
Please understand, we will be prioritizing participants who represent varied roles and populations which have been traditionally underrepresented within the organization. We will notify you by email if you have been selected for participation by Dec 23. 
If you choose not to participate in focus groups, or if you are not selected based on availability or other determining factors, we would encourage you to provide feedback in survey form. A link to the survey will be emailed to all staff the first week of January. 
 We greatly value your input and strongly encourage you to consider participating. As we aspire to be a more equitable and inclusive Agency, we are seeking your insights and feedback.  
Please reach out to Karl Kurt if you have any questions, comments, or concerns regarding our Equity Audit and/or the process.