Thank you to everyone who completed the Accessibility Self-Paced Training Course! We appreciate the time and effort each of you put in to expand your knowledge and skills regarding accessibility. Based on feedback from the course reflection, we wanted to provide you with some examples as well as some tips and tricks to ensure content that you create digitally will be accessible to everyone. We will continue to explore and address as many of your questions as possible. If you have any questions or need support, please contact the CRAEA help desk at helpdesk@centralriversaea.org.
Reminder of CRAEA's expectations regarding accessibility: Digital accessibility is not only a legal requirement, but an obligation to ensure everyone can utilize our products and services. Creating an inclusive digital environment will provide access to our resources and limit barriers while enhancing participation among those we support and serve.
When creating content digitally, always consider the audience. You cannot assume your content regardless of the format (Documents, Slides, Sheets or the web) will not be accessed by someone who has a disability. Our job is to create opportunities, not obstacles.
Examples of assistive technology in action
Tips and tricks for you to try!
Did you know that you can adjust the speed of almost any video by clicking on the gear in the lower right hand corner of the video and selecting a speed that is comfortable for you. This works not only on YouTube videos, but also videos that are in your Google Drive, from Screencastify, Flipgrid videos, Vimeo, etc. When watching a video, look for a gear, three dots, etc. in the lower right corner and see if adjusting the playback speed is available.
Did you know?
Approximately what percentage of the population between the ages of 18 and 44 have some difficulty hearing to a lot of difficulty hearing, even with a hearing aid? (according to data compiled by the CDC in 2019)
2%
5%
7%
12%
CORRECT ANSWER- 7%!
See this graph below for more info.
Figure 1. Percentage of adults aged 18 and over with difficulty hearing even when using a hearing aid, by age group: United States, 2019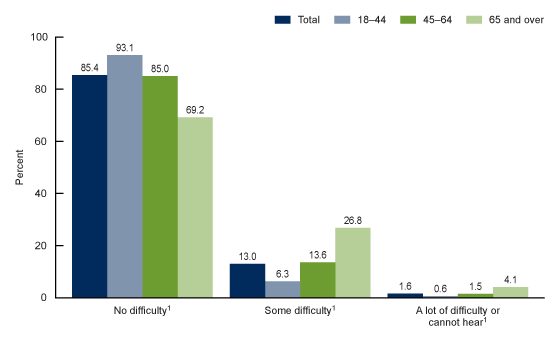 NOTES: Hearing limitation is based on responses to the survey question, "Do you have difficulty hearing, even when using a hearing aid? Would you say no difficulty, some difficulty, a lot of difficulty, or you cannot do this at all?" Estimates are based on household interviews of a sample of the U.S. civilian noninstitutionalized population