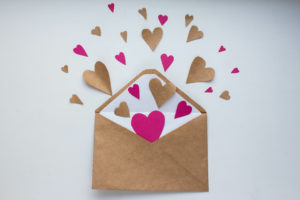 During the last Coffee with the Chief Zoom meeting, several staff members expressed an interest in ways to show our appreciation for educators serving in our local school districts. We know that this is a tough time to be in education and we want our partners to know that we are here for them and recognize their hard work. To that end, our Creative Services partners have come up with a couple ways for you to participate:
Leave a

"show the love" card

, along with a special treat such as a pack of gum, bottle of water, or small piece of candy, on the desk or workspace of a local educator. Feel free to add a little note to the backside of the card or leave it completely blank for a "someone is thinking of you" feel. Each card has our logo on the back so it will be clear it came from someone in the agency. Please note that special treats are completely optional and not provided by the agency – that would be on your own (but still awesome!).

Use one of the

specially designed cards

to write a handwritten personal note to an educator you want to reach out to. Find some encouraging words to let him/her know that you notice their good work. Please note that more generic agency thank you cards are also available if preferred. Simply place an order through Creative Services. 
The above cards are available at the reception desk of each of our three offices. Just swing by and grab a stash.