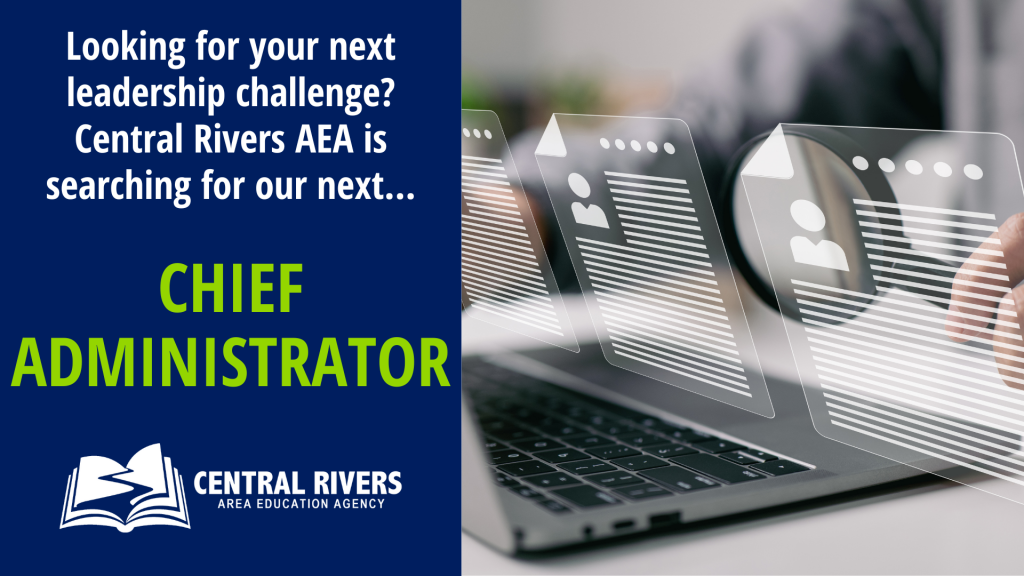 The Central Rivers AEA Board of Directors has officially begun a search for a new Chief Administrator. The recruitment effort is led by the executive search firm GR Recruiting.
The search will begin immediately and continue through December with the successful candidate named ideally before winter break. Staff have been invited to provide input regarding which key leadership traits and qualities are most important for the position to ensure the new hire is a good fit for the AEA. A survey was sent to all staff on August 29 for input. *Please note that feedback is due by 10:00 am on Friday, September 9. The GR Recruiting search team will produce a report based on the information gathered in the survey which the board will utilize in developing a position profile that will be utilized in recruitment.
In addition, the process of identifying staff members to fill out interview teams has been completed. A team of 10-12 staff members in each of the categories of Administration, Certified, Classified/NUSS staff and Superintendents will be chosen.  
The Central Rivers AEA board appreciates your input! Other important dates to note in the search process.
Board Meeting to Finalize Candidate Profile September 15

Application Period September 16 – November 7

Board Meeting to Review Candidates November 21 (closed session)

First Round Candidate Interviews November 28 – 29 (closed session)

Interview Finalist Candidates December 12 – 14 (closed session)
For more information about the Chief Administrator search process, please reach out to Lori Thomas.